A 1948 photo of Donald S. Case taking the farms team of horses (Tom-Grey and Genny-Black) down to grandfather Alex Case's 60 acre farm.
In the late 1940s Don's favorite radio show was "Straight Arrow".
You could get a "Straight Arrow Ring" for 10 cents and two box tops from Nabisco Shredded Wheat.
Donald S. Case's Gun Collection at age 16 in 1955
2nd Lt Case (R) at Missile Range in New Mex - 1960
When I completed the Air Defense Officer Basic Course at Ft Bliss,Texas, my first duty assignment was as an Instructor at the Air Defense School. I lectured on Missle (Nike Herc) and Nuclear Defense. Most of the instructors were contracted civilians, However, there were two Lt's assigned as instructors Ist Lt. John Shalikashvili and myself as a 2nd Lt.
Combat Unit Commander - Germany
Fire Control Platoon, D Battery, 5th Missile Battalion
Educational Tour - France/Germany/Alps-88
EF Convention - Florence, Italy - Nov 1988
Paper = Travel as an Additive to Education
EF Ski Insbruck - Dec 1988
Europe with an Alpine Flavor
Educational Tour - London/Edenburg 1989
Educational Tour to London - 1992 Mar
Student calling home
EF Educational Tour - London/Paris 1999
PARIS - LONDON - EDINBURGH 1992
Educational Trip to Italy - 2000
CMU Students and Others
Educational Trip to Greece - 2001
28 Years as an Adjunct Professor at CMU - 2002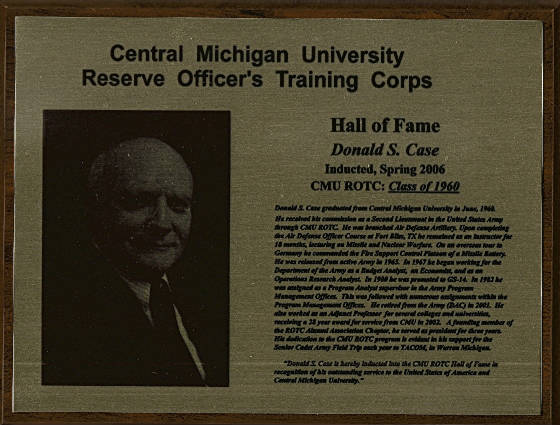 December 14, 2010
Picture taken from across the road